Al Saleh Hajj Draw 2012
We Al Saleh Enterprises LLC, the renowned high-tech lighting solution provider in Sultanate with a special display center at Qurum named "Majestic Corner", have selected two Lucky winners to perform Hajj in 2012 (1433 hij).
This scheme for employees was introduced in year 2000 and since that 1 employee was selected every year and then since 2008 two employees are selected every year, till 2011 17 employees have performed hajj.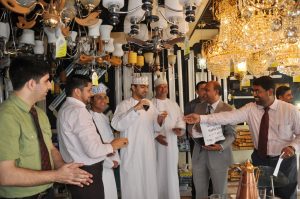 (Mr. Muhammed Al Lawati – CEO, Selected Lukcy winner)
Raffle draw was conducted at our Honda Road Showroom, on 13th June, 2012 at 11:00 am customers were also gathered , Mr. Muhammad Al Lawati (CEO) of the Group picked one Lucky name and one of the customers selected another.
Total 30 employees were participating in draw, 
Two lucky winners who are selected to perform Hajj in 2012 (1433 Hijri) are;

Mr. Younis Abdullah – Sohar Showroom (picked by Mr. Mohammed Mustafa Mukhtar , CEO)
Mr. Imdad – Al Hail Hail Showroom   (picked by Ruwi Showroom Visiting Customer)
 Management and Staff wish the lucky winners sincere greetings and congratulated them.