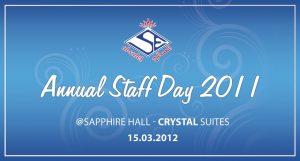 Al Saleh Enterprises LLC, Oman celeberated its annual Staff day 2011 on 15th March, 2012. All staff members were gathered at Sapphire Hall – Crystal Suites in Muscat, Program started at 7:30 PM with recitation of Holy Quran by Mr. Sajwany. Mr. Mustafa Bin Mukhtar bin Ali Al Lawati (Chairman) was welcomed by Mr. Chand Pasha (Commercial Manager) and Mr. Muhammad Bin Mustafa Bin Mukhtar Al Lawati was welcomed by Mr. Obaidullah Muhammad (Finance Manager).
Chairman said this is a wonderful gathering and said I am happy to see young omani talent who have joined various departments like sales, accounts, administration, warehouse and other departments and therefore are taking part in progress of Al Saleh Enterprises LLC. He congratulated to Outdoor Sales Division for achieving their targets and mentioned;
"I am delighted to inform all of you that we have succeeded in reaching our target of our Hayashi fans as of now. Congratulations to all of you for this great achievement especially to Mr. Suleman. In recognition for their outstanding performance in achieving Hayashi targets, the outdoor team and the related staff will soon be on an enjoying trip to Switzerland."
At end he mentioned that today success of our company is because of our employees who are contributing to the
development
of our organization.
Commercial Manager congratulated to all staff members and appriciated Mr. Sulaiman Ali Raza for his efforts for Hayashi Brand and congratulated to Sales Team for achieving their targets and
appreciated
them for selling 1 Million Pieces of Hayashi Fans.
Commercial Manager mentioned that we introduced many items in 2011 like
Omex auto pressure pump, Omex trailing socket, and also we have taken the new agency for LED SLIM LIGHTS from Korea.