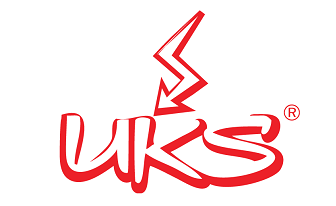 UKS Switches : Conceived in 2011 to meet the growing demand of aesthetics in wiring accessories segment. BS standards and GMARK approved switches and sockets provide grandeur to interiors and lives up to its caption "Imagination Personified".
The latest in range of UKS switches and sockets are bold and contemporary designs with edge to edge to rockers giving a unique touch and feel. They come to white and gold colours, made of high quality polycarbonate and conform to all relevant quality parameters and certifications.
UKS switches come with 6.4 mm slim profile, snap on cover plates with captive screws, generous copper terminals and 4 mm silver contact point. The switches carry phosphorescent lights which glow in the dark guiding the users to easy put the switches on.
One important features that stands UKS switches out is the strong steel back frame providing strength and level while fixing on the wall. Another distinguishing feature is hard, abrasion resistant and finger print resistant materials.
Product Range
UKS switches and wiring accessories have full range
USB socket
10AX gang switches (1 gang, 2 gang, 3 gang, 4 gang on 3×3 plates)
13A shuttered sockets in double pole and single pole versions
20A DP switches for air conditioners
45A DP switches for heavy load air conditioners and water heaters
Telephone and data outlets
TV outlets
3A fused connection outlets
13A fused
20A outlet
45A outlet
You can buy the range of above products either from any of Al Saleh's Showroom or you can visit the our Online store.
If you are a reseller in Oman or Distributor anywhere in the world and want to sell UKS Switches you may contact us here.