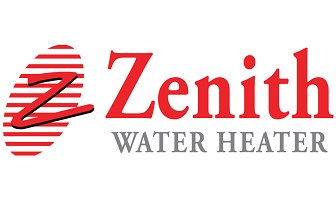 Zenith Water Heater: Manufactured by Star Industrial Products LLC which was established in the UAE. Zenith water heaters are the first water heater manufactured in the Middle East with Glass Line Technology. Zenith comprises a wide range of water heating systems in the Middle East, Africa & Asian Subcontinent.
Zenith Water Heaters are designed, manufactured, distributed and serviced with the philosophy of safety, quality, reliability and total value for money to its customers. Zenith and Heatex (Galvanised) heaters conform to all the relevant standards including GMARK and ECAS/ESMA.
Product Range
There are wide variety for heaters for different set up and installations, viz, Domestic, Commercial, Industrial and Solar water heaters.
Water Heaters
Domestic and commercial Water Heaters come in the capacities of 30, 50, 80, 100, 120, 150 to 200 ltr and they come in Vertical and Horizontal mounting options. Zenith Industrial water heaters and calorifiers are manufacture in capacities ranging from 250 ltr to 10,000 ltr. Factories are equipped to produce customized calorifiers depending upon the requirements.
Solar Water Heater
The Solar range of Zenith is truly excellent thermos-symphonic hybrid system which works without battery and provides hot water 24 hours switching between solar and electricity. These come in capacity of 200 ltr and 150 ltr and in two design options open loop and close loop. However, any capacity of hot water can be obtained by connecting more than one heater in series.
The solar collector panels are made in Europe and all pipes are made of pure copper and the pressure release valve are made in the UK. The system works trouble free and requires almost no maintenance, just washing the panel twice a month is generally enough.
All Zenith heaters are equipped with Made in Italy heating elements and thermostat from Thermowatt and NRV (non return valves) are from Ritimonio, Italy. Heaters are fitted with self-sacrificial magnesium oxide anode giving enhanced protection and life to the heaters.
Zenith also manufactures heat pumps for commercial and residential purposes, particularly suited for hotels, hospitals, SPA and holiday centers.