Distribution
Dealer's Network
Oman
We aim at covering Oman with our range of products through a network of over 450 dealers throughout Oman. Customers don't have to travel for hundreds of kilometers to purchase our high-quality electric accessories or benefit from our dedicated agents and highly qualified after-sales-service, they can find what they are looking for in the next-door shop.
For over 40 years, we have established excellent relations with our customers and we thrive to continue doing so by not only providing them with great products and services, but also by providing the support and consultancy needed through our after-sales-service
Dealers who are interested in taking the opportunity to become a distributor to our high quality and a wide range of products and enjoy our exceptional agreement terms can contact us on …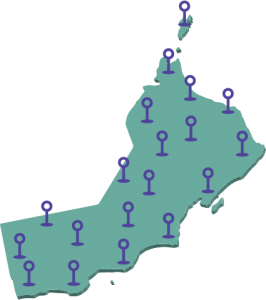 International
Wherever you are, we are always next door. Be it a little shop at the corner of the street or a big department store, we are there for you.
Al Saleh has established a thick base of distributors around the globe since the day of its inception and continues to do so by winning agents in different countries around the world. We aim to build a network of agents in overseas market to distribute our products and cater to different segments.
Agents around the globe can contact us for business collaboration via:
Email: info@al-saleh.com
Phone no : +96894193004